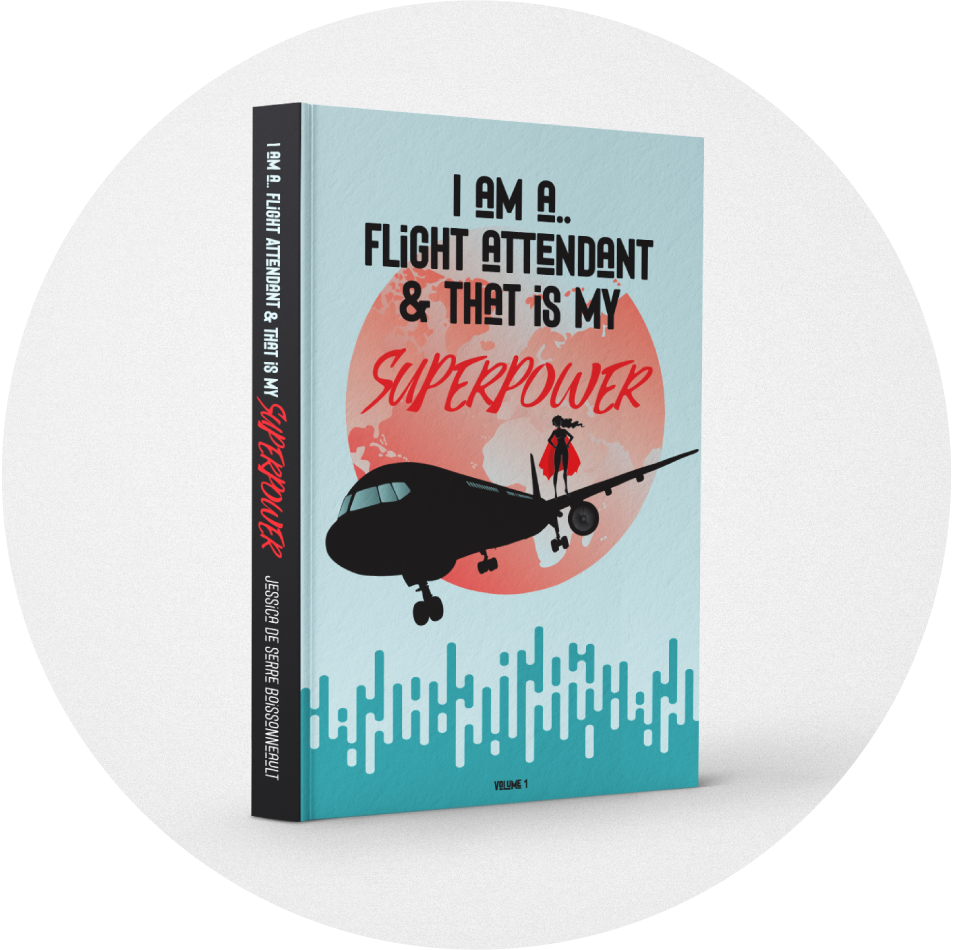 21 Extraordinary Flight Attendants
21 Unique Stories
21 Empowering Messages of Resiliency
"We rise by lifting each other"
May this book inspire you to dream big, & own YOUR superpower. The world needs you more than ever. So at this time, I invite you to sit back relax and allow these stories to take you to new and exciting destinations. – Jamie Mcniven Smith
Jessica De Serre Boissonneault
Pinar Tahirbegi Esfandiari
Christina Narayani Degano
Jessica De Serre Boissonneault
From small town girl to global inspiration, Jessica has always been known for her positivity and bubbliness! She studied Sociology to follow her passion for helping others and is certified in NLP. She is a lifetime learner and has personal growth as an integral part of her daily routine. Following her mission of supporting women, Jessica started her own podcast show and founded the Women Empowerment Wednesday Show. She is the founder of the Take Flight Coaching Academy, serving you as YOUR EMPOWERMENT AGENT. She was nominated for the Top 50 Most Influential Women in the VIP Global Magazine in the United States and is an award-winning author with two International-Best-Selling Books. Her third book « I am a Flight Attendant and that is my Superpower » will be launched in June 2021. Jessica's real transformation began in 2013 when she made the crucial decision to escape an abusive marriage and start her journey as a single mother. She leaned on her power, passion, and unbending positivity to transform herself, and in doing so, learned how to elevate women just like her. Along with being a flight attendant for the past 11 years, a passionate world traveller, and a philanthropist, today she is happy in love with her beautiful, blended family of 5 ! Jessica is about to launch her group coaching program to elevate women to live a more purposeful and powerful life. She works with women, entrepreneurs, and authors and her motto is: "We rise by lifting each other"! She is dedicated to sharing her contagious energy with everyone fortunate enough to cross her path. Jessica has been featured in multiple media, but you are more likely to see her hiking, doing a family dance party in the living room, enjoying date night with her love, or on a plane for her next adventure exploring this beautiful world !
" YOU HAVE YOUR WINGS: ALL YOU HAVE TO DO IS FLY. "
FB Group: Women Empowerment by Jessica DSB
Jessica De Serre Boissonneault
To schedule a complimentary session; please text Jessica at Tel: +1 514.824.9402 
" FROM A MYSTICAL LAND TO UP IN THE AIR ... "
It's the possibility of having a dream come true that makes life interesting,.. - Paulo Coelho
San Carlos de Bariloche
Patagonia Argentina
La Cordillera De Los Andes
Karina was born in Patagonia, Argentina. She is a passionate graphic designer and an international flight attendant. For years, she had a silent dream of becoming a flight attendant and travelling the world. She kept that dream alive until, one day, the opportunity for her to work for an international airline came to her 'Camino'. In this book collaboration, she will share how dreams can come true by sending out real intentions into the universe, by trusting ourselves and life, and by pushing away all limited beliefs. She finds her inspirations, nourishes her imagination, and empowers her creativity through her discoveries around the world. Her imagination was filled with creative ideas stemming from the many countries she has visited… Argentina, Chile, Egypt, Europe, India, Japan and even Morocco. The most special place for her, however, is the town of her birth, San Carlos de Bariloche. It is at the end of the world, surrounded by magnificent mountains, lakes, and rivers and harbors ancient legends of magical forests protected by dwarfs. Another legend speaks of the monster Nahuelito, a cryptid lake monster who allegedly lives in Nahuel Huapi Lake, Patagonia, a beautiful territory that was once occupied by ancient dinosaurs. She is thrilled to participate in this journey as a co-author where she shares the magic through her travelling adventures and what she found while discovering new cultures and art, all while absorbing the magnificent panoramas filled with history.
Mélissa has been a flight attendant for the past 5 years. A girl who decided to go for it! She says "yes" to every opportunity that pushes her out of her comfort zone. This has led her to multiple adventures and brought out the best stories to tell. You may see your flight attendants as air hostesses, but the truth is this: they are first aid trained, ready to respond to any kind of emergency situation, and they have amazing social skills. From performing CPR on a baby, to getting punched in the face, you will read the details of some of Mélissa's most personal and unbelievable stories. From living her best life through her dream job, to being laid off and in mourning, she has owned her courage, worked on her mindset, and turned her purpose of helping others into a new passion for self-care. Her goal is to help people feel empowered and beautiful, inside and out. Can you believe she does it with shampoo and face wash?
" Never stop believing int he beauty of your dreams.. "
" If it doesn't challenge you, It doesn't change you.. " - Fred Devito
FB Page: Stéphanie Dénommée – Courtier Immobilier 
 Immobilier Résidentiel IG: @stephaniedcourtier 
While being a flight attendant will forever be tattooed on her heart, Stéphanie feels that it is always better to have at least two passions in life (even more if you can!). It was actually one of the passengers in Premium Class, on a flight in 2017, who once gave her this advice "never put all your eggs in the same basket, this life is full of uncertainty". That advice made her decide to search for another career that could become a second passion. After selling her first property and discovering what a real estate broker really was, she felt inspired by the broker who worked with her to sell her condo and buy a house. After going back to school in 2019, she is now embracing her new career as a real estate broker, helping people to find the house of their dreams. Meanwhile, she is also learning Japanese to prepare for when airplanes are back in her life and she can go back to work with her first love: aviation. She is learning a lot about navigating through chaos and being comfortable and positive about the uncomfortable and the unknown. A common point to both of the careers? Customer service for sure, but also being by the side of people during the realization of their dreams; either a dream vacation or a dream home!
Facebook Page: Stéphanie Dénommée – Courtier Immobilier Résidentiel Instagram: stephaniedcourtier
Geneviève is a passionate and strong woman living life to its fullest and thriving in each new creative project she takes part in. Every choice she made along the way contributed to the incredible life she has built for herself. Starting with an International development degree combined with 14 years of flying, travelling to 52 Countries, speaking 5 languages and living all over Canada and Cuba, she feels fulfilled. Despite loving her career and the amazing lifestyle it came with, she always knew she wanted to become an entrepreneur. Her hotel boutique in Havana was one of her first business projects, and her latest creation One Sky Imports is now a stunning online boutique combining World discoveries and an inspiring travelling Blog. Her true passions of aviation, home decor and travelling, are now synced together in this dream. Looking for balance in everything she does, she feeds her soul, body and mind with positive influences in order to attract the best of what life has to offer. Through her writing journey, she also discovered how powerful and inspirational words can be. She lives to create and evolve and she can't wait to share all her stories with you!
ABOVE & BEYOND THE SKY
" Always shoot for the Moon, even if you miss, you'll land amongst the stars.... "
" Life is what you make it. Life is not about waiting for the storm to pass. It's about to learn to dance in the rain. - She believed she could, so she did.."
FB :  Karine Boileau Communicatrice Intuitive 
IG: @KarineBcommunicatrice
Karine is a passionate dreamer who loves to spread her light and energy towards positive change. She is a fervid writer and speaker who believes in courage and determination. She has a contagious smile and she loves to engage with people. She was hired for the start of a new airline at the beginning of 2014 and spent six gorgeous years travelling the world with her better half until they were both laid off in June 2020. She is the founder of Version B, a wellness blog and organization that wishes to empower women to be the best version of themselves by respecting their beautiful bodies, amazing minds, and spirits. They organize powerful and inspiring retreats to allow women to connect, exchange and share. Her bachelor's degree in communication and modern languages is allowing her to temporarily work as an English teacher in an elementary school near her home. It is a new adventure, and she gets to learn from her young students daily. She is also putting together a wide variety of new projects that will soon be leading to more books, blogs, talks and podcasts. Karine is big about living her best life and wishes to empower others to do the same. She lives in a simple house by a beautiful lake with her boyfriend and two-year-old daughter.
Gabrielle was born and raised in a small town in the province of Quebec. At an early age, she knew she was destined to accomplish great things. She took matters into her own hands because she always knew she was the only one in charge of her own happiness. In 2013, she became a flight attendant, and her life took a turn for the best. The job not only brought her all around the world, but also took her to her favourite place, the great Pacific North West where she met her people and lived for 4 years. The fresh air of the West Coast brought clarity into her life and that's when her conscious manifestation journey started. She is a positive woman with a big vision and an even bigger mindset. She is ambitious and has big dreams. During the pandemic, she really focused on her side business which has been a true blessing in her life and the lives of so many others. Gabrielle's love language is quality time. She aims to make the best memories with her family and friends, her dog and her own self. She is independent, loves to get out of her comfort zone and wants every woman out there to know they are capable of achieving anything they put their minds to. She believes we all deserve the best of what life has to offer as long as we are willing to put our fears to a stop and just go for whatever it is we desire.
" Saying yes to the things that scare you, is getting you closer to the things you truly need & want out of life. "
" Let your light shine & share it with the world, igniting light in others. "
Nadia is passionate about people and wants to make a difference in their overall well-being. She dreams of sharing her experiences and learning with others. She truly believes that everyone should shine by being who they are: unique. Nadia started her career as a flight attendant at the beginning of the launch of a new airline and had the chance to see the world for 7 wonderful years before she was laid off in June 2020. She was lucky enough to start her own business in the field of well-being during that time. She has created a program for women who put too much stress on their shoulders, has given talks, workshops and participated at wellness events as well. She wishes to continue building a strong community that rises together and connects to all the possibilities that life offers. She is living a simple life in the Laurentides area with her partner, and they are expecting their first child in August 2021.
A proud mother of a young boy, Chantal Perron at fifty, defines herself as a Compassionate Flying Therapist Mom. Travelling being her first passion, she has been employed with a nationwide airline for over twenty-four years. Most of her flying experience is as a Service Director. Through her career she also had the opportunity to do special assignments within the In-Flight Service Department. She proudly joined the recruiting team for eleven years in addition to her seven years of being an instructor in the airline's training center. Following her path and being open to what life has to offer, she went from participating in personal therapy, which was a turning point in her life, to becoming a therapist herself. Her mission is to help others reveal their inner strengths and courage to face their fears and challenges. She does this by developing cognitive and emotional knowledge in order to allow her clients to have better relationships with themselves and others. She believes that love, truth, faith, and gratitude are food for the soul. She uses yoga and meditation to help her achieve a state of mindfulness.
" Until you spread your wings, you have no idea how far you fly. "
" Don't let your past hold you hostage to your future. " - Byron Nelson
After Dwayne saw La Bamba in the summer of 87′ and said he'd never fly ever again, so much for that ! His dream was to be a professional soccer player and maybe one day own his own restaurant. Life got in the way, distractions occurred & he became a Flight Attendant and a Poet. Not bad for a black kid who was just supposed to be another statistic. Dwayne never let anyone's opinion of him become his reality. Hard work and  determination always pays off. One must go through the mud in order to see the light on the other side. It comes down to making a decision and Dwayne did just that. He bet on himself when no one else would, and today he can call himself an author. 
Kristen McGirr currently works in interior designing. She became the manager of a prestigious 120-year-old store shortly after she was hired. Kristen is a people person, and that is what makes her stand out in the customer service field. Compassion and kindness are everything to her. She puts herself in other people's shoes and treats them all equally. At the age of 23, she set sail with Carnival cruise line to work at the front desk of a 3000-passenger ship for 9 months. Upon her return home, she wanted to pursue a career in aviation. She worked for her first airline, as a flight attendant, for 2 years. She then got the call of her dreams and was hired for one of the biggest North American Airlines. Eight years later, her aviation career was put on hold, like so many others in her field, after the industry was majorly impacted in 2020. No matter what, travelling is and always will be her passion. Her parents travelled with her and her younger sister since she was born, opening Kristen's eyes to all the wonders that she had yet to discover. Today, she has begun her flying courses to become a pilot. When she sets her mind to something, Kristen becomes unstoppable. A true inspiration for all to believe in the beauty of their dreams.
"HAPPINESS CAN BE FOUND, EVEN IN THE DARKEST OF TIME, IF ONE ONLY REMEMBERS TO TURN ON THE LIGHT." - ALBUS DUMBLEDORE
"Grounded & Grateful."
" When something goes wrong in your life, just yell.. PLOT TWIST ! and move on.. "
Shortly after completing her Bachelor of Science degree at McGill University, McCreight made the decision to enter the workforce before continuing her education. She was hired as a flight attendant for a Montreal base a few months later and quickly fell in love with the world of aviation. During her six years as a flight attendant, she travelled to many countries including Iceland, France, Greece, Spain, Portugal, Peru, Morocco, and Chili. Her many hobbies include various types of crafts such as quilling, painting and drawing. She is a proud vegan as well as a caregiver to her two kitties: Gideon and Kevin. Over the past year, McCreight, like the rest of the world, has had to reimagine her career goals and re-envision what she wants her future to look like. Currently, she is taking classes to expand her creative skill set and is in the midst of writing her first fictional novel. 
Arianna is someone who truly believes that energy is contagious. She loves sharing her warmth and kindness with anyone who crosses her path. "Everybody should feel important" is her motto. Her life has always led her to believe in the power of perseverance. She believes that what defines us is how well we rise after falling. As a young girl, she would always look up to the sky and name every airline of each plane that would fly over her family home with a burning desire to one day be living the jet setters' life herself. In 2010 that dream became a reality when she landed her job in the aviation industry. She knew from that point on, her heart was finally at home, in the sky. In 2018 she [] made the painful yet crucial decision to leave a toxic abusive relationship where she felt like she had completely lost herself. On her path to self-discovery and regaining her power, she made the decision to follow her second passion: real estate and interior design. She is an entrepreneur, animal lover, avid world traveller, a yoga and fitness aficionado as well as a passionate baker. She is the example that perseverance is power, and with power you can do anything.


"Love at first flight.."
" The greatest step towards a life of simplicity is to learn to let go. "
FB: Arianna Di Fruscia Residential Real Estate Broker 
"Leaps of faith will bring you miracles."
" If you want to live a life that is beyond your wildest dreams, just fallow your intuition, especially when it doesn't make sens, and trust the universe for the rest.. "
Personal FB profile: @Sarah Delagrave Bourget
FB Group: lesdeessesdelamour
Free Facebook group "Manifeste ton âme soeur: Les déesses de l'amour" with lots of free  relationship tools (in French)
Join the Group via my Personal FB profile.
Sarah Delagrave Bourget is a 35-year-old free soul spirit from Montreal! She's the perfect mix between a therapist and a witch, and her biggest passions in life are travelling and helping people. Her longest trip was spending 10 months in Asia by herself. It was on this trip that she truly discovered the joy of travelling : discovering amazing scenery, trying new food and sharing experiences with people from around the world. For as long as she can remember, she has always been really curious about how relationships work. Consequently, that's why she studied psychoeducation at Sherbrooke University (bachelor and master) and completed 3 years of training to become a couple and relationship therapist. She worked as a psychoeducator for 5 years, helping families in crisis in Montreal's CLSC (social services). Then, in 2017, she became a flight attendant while also building her relationship coaching business on the side. Sarah helps women learn how to follow their intuition to then manifest the life and the relationship of their dreams. She does so by helping them to heal wounds from their past relationships, get rid of their limiting beliefs, fully love themselves, reconnect to their divine femininity and learn to communicate their truth easily. Sarah can't wait to go back to flying and to continue to fulfill her two biggest passions once more: travelling and helping people.


Pinar Tahirbegi Esfandiari
Pinar Tahirbegi was born in Ankara Turkey. She has a bachelor's degree in Linguistics and language Sciences, and she majored in Japanese from The University of Ankara in Turkey. During her university years, she worked on multiple projects in Turkey as a translator and taught Japanese at a language school. Her long journey then brought her to Canada, where she started her family. She is a mom of 2 beautiful children, Deryn and Ayla, and has devoted herself as a mother and guided them through their childhood journeys, while also working part time at a local restaurant. This experience in the restaurant industry gave her the motivation to open up her own restaurant, which she ran together with her husband for few years. She then started a pottery studio with her friend, which eventually led to an after-school program for kids. This decision was driven by the fact that she wanted to be with her kids while at the same time enhancing other children's creativity and social skills. In 2017, she started her journey as a realtor, and joined Royal LePage, which she is still a part of today. Then in 2019, a bit of persuasion from her friend mixed with her passion in travel and customer service led her to become a flight attendant for a major airline. Pinar loves to sing and has been a part of a jazz ensemble called "The Ambiance Singers", for the last 11 years. She loves animals and has a few of her own, including a dog, two cats, her son's bearded dragon, and her daughter`s gerbil. She also has a deep passion for cooking and baking and is still eagerly waiting for the next possible adventure coming her way.
"Be a rainbow in someone else`s cloud.."
" Follow the adventure of your dreams !.. "
Tel: +1 . 416.801.5308 
– Pinar Tahirbegi Sales Representative Direct.
FB : pinar.tahirbegiesfandiari
Tel: +1 . 905-568-2121 ( Office ) 
30 Eglinton Ave.West, Suite 201 Mississauga, Ont L5R 3E7
Empowering Your Realty Dreams
" Breaking isolation through writing.. "
"Laisse les autres te dire, non!." "Let others, tell you no!.."
March 23rd 2011 will remain a date forever engraved in Isabelle Rioux's heart. That day, her then 2-year-old son Samuel was diagnosed with an Autism Spectrum Disorder. A difficult time; shock, denial, distress, and anger. A flight attendant for 24 years and mother of two, she knew then that her life would never be the same. She knew that only her vision of how she saw differences in others could be what would bring beauty to her new reality. She decided to welcome this new challenge with an open heart, and she closed the door on all judgment for her son and for herself. Samuel, without knowing it, changed her way of seeing diversity in others. Samuel, with his own range of this spectrum, was always real and true to himself. His outward uncensored way of being and expressing himself was changing Isabelle's own view of herself. She learned to welcome her flaws alongside her qualities, making her feel whole, beautiful, and true to herself, like her son. Isabelle holds a bachelor's degree in business administration from the University of Québec in Montréal. She is also interested in teaching and has discovered a real passion for the profession of substitute teaching in Supporting All Individual Learners (SAIL), such as those diagnosed with Autism Spectrum Disorder. A woman committed to the cause of autism and special needs, Isabelle participates each year in making differences in others shine through the month of autism at conferences and with concrete actions in schools. Her growing need to rebuild her life and push further, led her to write continuously. She created a private group called Ma Bulle on Facebook with more than 565 following members where she shares her daily experiences with her son. Her purpose in creating this group was to shine a light on an otherwise unbeknown disorder. Isabelle wants to make a difference in people's lives. She aims to make those living with an autism spectrum disorder shine, to give them wings and to fly high! 
Farnaz Mamizadeh (Naz) was born in Iran, Tehran. She immigrated to Montreal, Canada when she was a child. Being a flight attendant for over 13 years has brought her tremendous joy and has given her the chance to learn about herself and others along the way. Travelling is her true first love, and her curiosity to learn and experience is still present, just like that naïve child who always wants to discover new things. She has been fortunate enough to travel to Africa on two occasions, visiting Burkina Faso and Abidjan in the Ivory Coast, helping as a volunteer translator and photographer. She has travelled to Spain and walked the path of Fatima and paid respect to the Golden Temple in Punjab. Naz has been a very spiritual person from a young age. She loves finding a sense of connection with people she meets along her way. She has a bucket list and never shies away from trying something new: eating bugs in Thailand, jumping off a cliff in Albania, going on adventures with her friends in Bali. Wherever she is, she narrates her adventures, finding what lessons and skills her travelling can teach her. She did her eat-pray-love travel when she went to Italy and fell in love with the country, so much so that she started learning Italian. She went to India and fell deeper in love with India, as she loves the music and the Bollywood movies (anyone who knows her knows that side of her). And Bali brought on so many new experiences where she connected with nature and her yoga practice on an even deeper level. One of her favourite quotes from that book/movie is: "If you are brave enough to leave behind everything that is familiar and comforting and set out on a journey to seek the truth be it internally or externally, and if you are truly willing to regard everything that happens on that journey as a clue and accept everyone you meet along the way as a teacher, if you are prepared to face and forgive difficult realities about yourself, then the truth will not be withheld from you". She also took her love for Yoga to another level and trained as an instructor in Thailand and at Modo in Montreal. She is now a certified 700-hour Hatha Yoga teacher sharing her knowledge with many of her friends, family and colleagues. She teaches via Zoom and has a page on Instagram for her students and followers Yoga.with.naz . This is her first-ever written work, and hopefully not her last.


"THIS IS LOVE: TO FLY TOWARDS A SECRET SKY, TO CAUSE A HUNDRED VEILS TO FALL EACH MOMENT. FIRST TO LET GO OF LIFE. FINALLY, TO TAKE A STEP WITHOUT FEET..." - BY RUMI
" When everything seems to be going against you, remember that the airplane takes off against the wind, not with it. " - Henry Ford
Adrienne Wiley has been a flight attendant in a large Canadian airline for over 19 years. While she obtained a BA in applied justice studies and started her career as a correctional officer, she soon moved on to a more uplifting career in the sky where she could make people smile. She would often be found trying to make her coworkers laugh or dance on the plane, while aiming to genuinely help people through their travel journeys. She is a perceptive and intuitive person who tries to connect with others frequently while sharing honest truths about her own life experiences. She is known to rarely filter her words, to often incorporate humour into her interactions and to not take herself too seriously. Outside of work, Adrienne is a single mom to her two amazing and beautiful kids, a 14-year-old son and an 8-year-old daughter. She embraces the adventure of parenting with a whimsical attitude, open dialogue, and compassion. She often tries to make her kids laugh while guiding them on their paths through life. She thinks she is hilarious, though her teenager would call her "cringe-worthy"! Aside from spending time with family, friends, and her boyfriend, Adrienne enjoys cooking and eating delicious food (flat wings only, please), sipping Prosecco and wine, and is known as a baker and blossoming cake decorator for all those that won't critique her works too seriously! She has recently become a bird watcher and never tires of witnessing beautiful sunsets, from in the air or on the ground, in whatever part of the world she is in. Adrienne cannot wait to resume travelling and plan new adventures with those she loves once the world recovers from the current pandemic. 
Caroline Grenier is a Franco-Ontarian, educated in French and is fluently bilingual. She has a degree in advertising and marketing and is a Landmark graduate. She started her flight attendant career at the early age of 19 years old and now has 20 years of flight experience. Her love for travel is admiring beautiful beach sunsets and chasing waterfalls. Her personal desires and drive have always been to represent healthy models and bring smiles and curves to this industry in an uplifting manner. Having the dream to be an international model, she ended up in South Africa . She has worked as a model and actress for major brands and companies in multiple countries. She has been an actress and a producer in short films created with her friends. First runner-up winner at the Sundance Film Festival and another short film was recognized at the Cannes Film Festival. ET Canada, Canada Am and others featured their Canadian win. To this day she is still involved and works on different TV shows, films and commercials in Toronto. Her love of beauty got her involved in the makeup industry where she worked for M.A.C. for many years and is now a freelance makeup artist. Her dreams and vision are to empower people to learn more about the superpowers of fruits and vegetables. She writes empowering articles for a Canadian magazine called Chaarmz, enlightening and inspiring others to connect deeper with nature's powers.
Divinely Orchestrated.
" You must use your mind as a tool, because it is a field where your create. "
SuperPower Tips foodandhealthenthusiast
Chaarmz Magazine on FB & Instagram and our own site:
www.chaarmzmagazine.com
www.filmcomm.ca
My Talent Agency ( Actra Member)
Multi-passionate, consciously high-flying yet spiritually grounded, holistic citizen of the world could describe Christina (Narayani). Grateful and content to be Canadian, Christina has greatly evolved in foreign lands. She has resided within the deep ancestral roots of her Italian Friuli region, and developed through long-standing connections with other cultures, such as in Peru, Colombia, and Hawaii. Her exploratory spirit was principally nurtured by the airline career she started in 1989, on the Toronto 'ground' -in Reservations, followed by YYZ Customer Service—before becoming a Flight Attendant in 1999. She has used the gift of travel, primarily for self-development and lifelong learning. Even as a young teenager, many years pre-airline, Christina experimented with many gigs such as Pharmacist assistant, international babysitter, and even Marlboro girl (having never smoked!), in Udine, Italy. Employed at her airline of choice, she simultaneously worked as an Ayurvedic technician, interpreter, and fitness instructor. Ultimately, over the decades, she dove deep into two pivotal areas: Spiritual life as an early adopter, teacher of Yogic Science and Meditation, and the Natural Health field as a practitioner of many modalities. Today, she practices Energy and Quantum medicine, Yogic and Rejuvenation therapies, and various holistic modalities as a Doctor (PhD) in Natural Medicine, and Registered Professional Counsellor. Recently she also became a Realtor in Ontario, Canada. Her goal is to support her clients in achieving supreme well-being as healthy, balanced property owners. Sooner than later, Christina will collaborate with her partner Felipe on Kauai, Hawaii, in their similar Holistic Health, and Real Estate specialties. And as 1st ISF Surf Champion, still today riding big waves, his daily presence, in the heavenly 'Garden Island' energy, will sustain her intentions to always work for highest purpose, journey less in the world and more inwardly, and blissfully surf in the divine stillness of life.
"Open your heart, Open your World.. "